While the General Overseer of the Redeemed Christian church of God was leading a prayer protest alongside other members of the church in all its parishes nationwide, on Sunday morning, Vice President, Prof Yemi Osinbajo who was a Pastor at the RCCG before being elected into power, held a thanksgiving service for surviving an helicopter crash exactly a year ago.
Sharing photos from the thanksgiving service, the official twitter handle of the Nigerian president posted thus:
"A thanksgiving service at the Presidential Villa Chapel today praising God for Vice President @ProfOsinbajo and 11 others who survived a helicopter crash exactly one year ago during the 2019 presidential election campaign in Kogi State"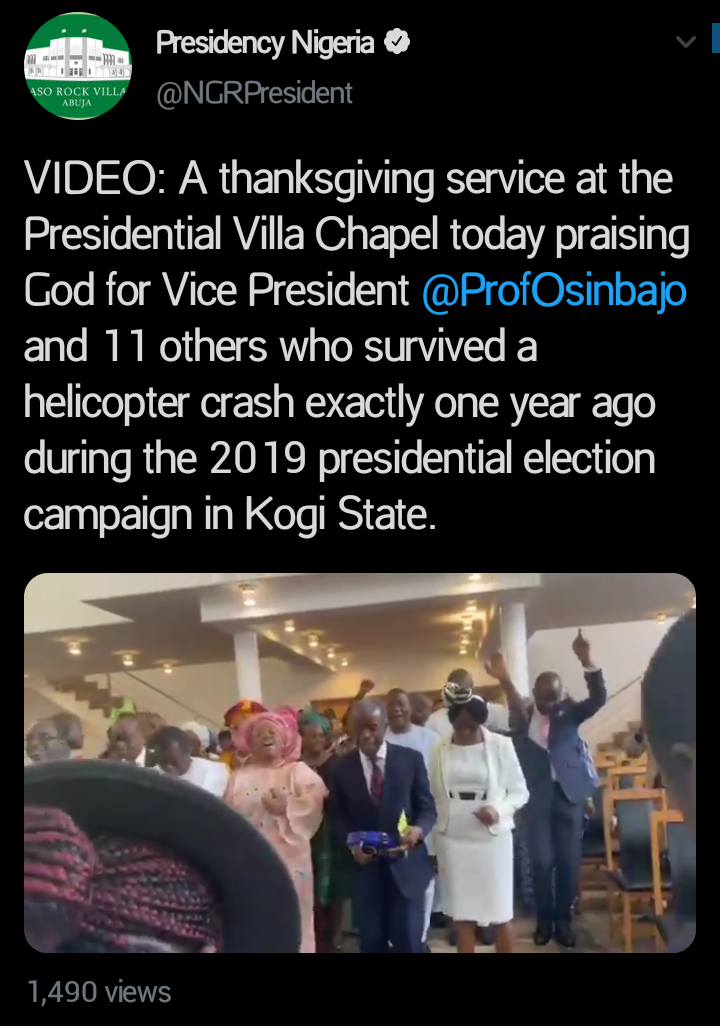 Well, not many Nigerians are in support of the action by the Vice president.
For instance, a tweet from one Precious, which has now gone viral reads:
"The thanksgiving has been questioned by some Nigerians who are of the opinion that, how a leader be thanking God when those he's leading are in pains?
'The VP didn't get it right on this. Even though he can't come out to support his faith, he should've shifted his Thanksgiving to show solidarity and exonerate himself.
How can you be thanking God when God's people he placed under your care are being murdered in cold blood".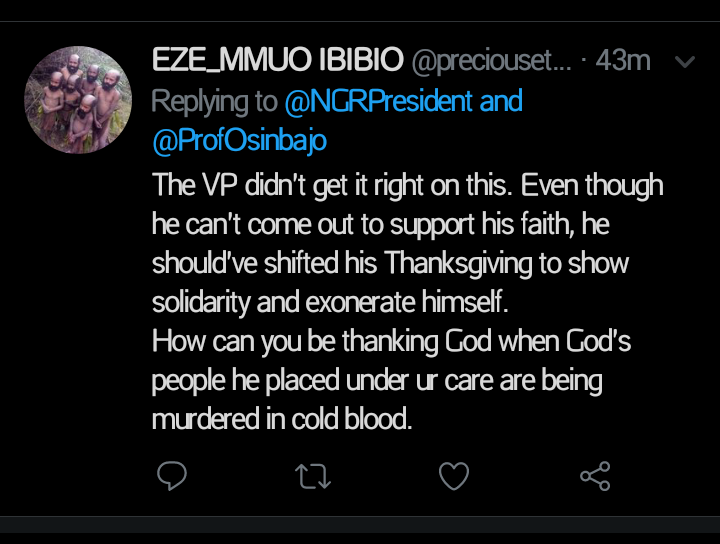 Some are also of the opinion that with this singular action, the Vice President probably was not in support of the RCCG protest again insecurity in the nation, led by his father in the lord, Pastor E A Adeboye.
Below is a video from the helicopter crash scene which held a year ago :
Meanwhile, the vice president was joined at the thanksgiving by his wife, Dolapo, family members and his aides, including some of those who were with him during the crash.
Osinbajo, who spoke with State House correspondents after the service, said it was an awesome and incredible deliverance.
"I think that what happened on that
occasion was so amazing; so miraculous; 12 of us in a helicopter; the
helicopter crashed and not one scratch on anyone of us.
"That's just incredible; so, we can only
continue to thank God and to praise the Lord Jesus Christ for an awesome
deliverance of so many of us; so, we just keep thanking God.
"That's why we are here this morning to just praise God."
"Can you imagine a situation where you
survived a helicopter crash? I think it demonstrates that God is
merciful; God is awesome; he is able to do all things.
"I think it just strengthened my faith and the faith of all those who were there," he said.
The post Osinbajo attacked for holding thanksgiving…shunning Adeboye's RCCG nationwide prayer protest (photos) appeared first on Kemi Filani News.
Source: Republican